Bathroom
Install safety rails in the tub or shower to make entrances and exits safe and easy, particularly for children and the elderly.
Be sure to install the rails directly into a stud behind the tub/shower wall, not just into drywall or a vinyl tub/shower surround. The safety bar must be sturdy enough to withstand a sudden, sharp pull.
Never lean or pull on towel bars or soap dishes.
Use non-slip decals or strips in the bottom of the tub or shower. Some of the newer models have a "grippable" surface built in ­ remember this important safety feature if you are shopping for a replacement tub or shower kit.

Make sure faucets and showerheads have anti-scald features that prevent sudden bursts of very hot water. Most new bathroom fixtures integrate these features, but houses with old plumbing may not have them. This is particularly important in bathrooms used by small children and the elderly ­ both of whom are particularly susceptible to burn injuries.

Use a rubber-backed bath mat to prevent slipping on a wet floor.
Bedroom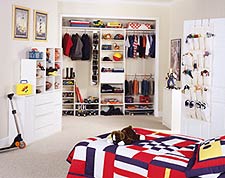 If you can't easily reach the ground outside your window, keep an escape ladder handy in case a fire blocks your regular exit path from the house. Rope ladders do not take up much storage space and can be put into use quickly.

Make sure closet shelving is sturdy and organized, and that no items are in danger of falling when the closet doors are opened. Store heavy things lowest to the ground and reserve higher shelves for lighter items.
Garage, Utility Room or Basement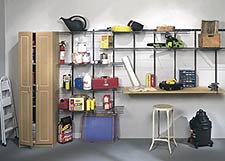 Test your basement for the presence of radon, an invisible, odourless, tasteless gas that is believed to cause cancer.
This radioactive gas occurs naturally as a byproduct of the breakdown of uranium in soil, rocks and water. It is most concentrated in the lowest level of the home, such as the basement. Radon also can seep into the home through cracks in the foundation or walls, openings or spaces around sump pumps and drains, or construction joints or flaws.
Radon test kits include instructions on how to collect a sample of your home's air and have it analyzed.
Put tags on shut-off valves/switches for water, gas and electricity. They should be easy to find in an emergency.

Use step-stools and utility ladders to reach items on high shelves. Do not stand on a chair.

Make sure utility shelving is sturdy and well-organized.