The right mailbox can add value to your home by creating curb appeal. But, with so many styles, how do you choose the right one? There are many factors you should consider when choosing a mailbox.
Mounting Position * Post Mount mailboxes are typically installed at the curb in front of a home. They require a post and mounting board for installation. * Wall Mount mailboxes are generally installed by the front entry door of a home. May require mounting screws and anchors for installation.
Style Select a mailbox that will reflect the style of your home. Mailboxes are considered either traditional or contemporary depending on the general shape of the mailbox. Some mailboxes are a blend of Traditional and Contemporary styling.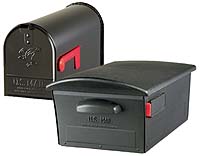 Material Consider the material when selecting a mailbox. * Galvanized Steel mailboxes are heavy-duty and rust resistant. They come in a variety of gauges ranging from standard to heavy. Some mailboxes are made of heavy plated steel and are virtually indestructible. * Aluminum mailboxes will not rust and are ideal for coastal areas. * Plastic mailboxes range from standard thickness to virtually indestructible double-wall construction. These mailboxes are also rust proof. * Brass mailboxes add a touch of elegance to any home. If cared for properly, they will last for many years of enjoyment. * Cedar wrapped mailboxes are great if you're going for a rustic look. They will weather over time, unless sealant is applied on a regular basis.
Colour & Finish Mailboxes vary in colour and finish. Painted mailbox finishes include flat, semi-gloss, high gloss and textured. Select the colour and finish that will complement your home.
Size Post Mount mailbox sizes include Standard, Large and Extra Large. Wall Mount mailboxes range in size from Small to Extra Large capacity. Select a mailbox based on the capacity needed. How much mail do you receive on a daily basis?
Security If you are concerned about your mail being stolen, select a mailbox with a locking feature. Security mailboxes also protect mail from being exposed during daily deliveries if left unattended for a while.
Selecting a Post Select a post for your mailbox based on colour, material, style and ease of installation. * Ground burial posts require digging a hole and adding concrete. * Anchor mount posts may also require digging or concreting. * Drive-in posts do not require digging or concrete and are the easiest to install.
Good Idea: Before leaving the store, look at the post packaging to see what tools and supplies may be required for installation. Make sure the post you select includes a mounting board and hardware.